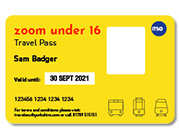 Megatravel
SKU: MT-APPLICATION
Senior Pass Auto Renewals
If your current pass expires in 2017 we will send you a new pass automatically. If your new pass renewal hasn't arrived 4 weeks before your current pass expires, please email passes@sypte.co.uk or call 01709 515151.
Moved address? Let us know
Please note: If you are a parent applying for your child's MegaTravel pass, you must apply in your child's name. You will need to use (or set up) a different email address to create a new MyTSY account in your child's name to apply.
If you are a South Yorkshire resident and under 16, you are eligible for a Megatravel Pass. The MegaTravel Pass entitles pass holders to concessionary travel on buses, trams and trains in South Yorkshire.
You will need to provide proof of your age and will need to provide a passport size photograph as this pass requires a photocard.
You must live in South Yorkshire and your household pays council tax to Barnsley, Doncaster, Rotherham or Sheffield councils.